Newsletter from Trustee Dr. Adriana Tamez, District III
Mar 9, 2022
Dear Neighbors,
The need for higher education and career advancement never stops. And, it's a little known secret that Houston Community College offers the most affordable tuition of any higher education institution in the region.
With more than 100 programs of study in academics, business, cyber security, automotive repair, culinary and performing arts, health sciences and more, HCC has what you need to obtain an associate degree, prerequisites for transfer to a four-year university or workforce training.
Despite the effects of an ongoing pandemic, HCC continues to build enrollment through dual-credit academic programs for high school students, expanding workforce training, community learning classes for personal development and lifelong learning for those over 55.
Importantly, HCC offers several options for obtaining computers and internet access.
Discounts are available on the purchase of computers from leading manufacturers
Free use of software from leading companies such as Microsoft and
Wi-Fi is available at all HCC campuses and outdoor venues, including college parking
Professional technical support is also available to assist you in your
So what are you waiting for? Visit hccs.edu or call 713.718.2000 today to learn more.
HCC is here for you!
Sincerely,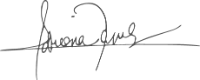 Adriana Tamez, Ed.D.

HCC Board of Trustees

District III

Download Spanish version as PDF

Download Spanish version as RTF




« Previous Article

| Next Article »